Introducing ERLIC!
Gradient chromatography without the gradient! Separate peptides, nucleotides and amino acids socratically!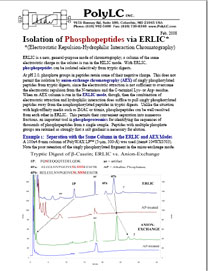 ERLIC of Phosphopeptides
Phosphopeptides can also be isolated from tryptic digests and separated with high resolution.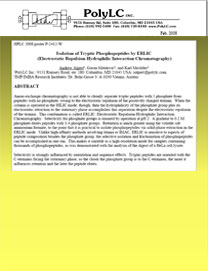 The Poster form HPLC 2008
Featuring volatile solvents and SPE-ERLIC for phosphopeptides.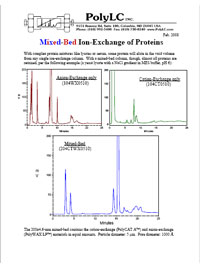 Mixed-bed Ion-Exchange Columns for Intact Proteins
Proteomics: PolyLC PolySULFOETHYL A™ is the standard material for the SCX-RPC sequence for multidimensional LC of complex tryptic digests.
QC: Analysis of closely-related protein variants.
Metabolomics: Analysis of polar solutes in cell and plant extracts; quick isocratic analysis of amino acids; etc.
Hemoglobin analysis: PolyLC PolyCAT A™ columns are the gold standard.
Prion protein assay in blood samples.
Membrane protein isolation.
Separation by size of solutes as small as amino acids.
PCR reactions: HPLC alternative to gels.